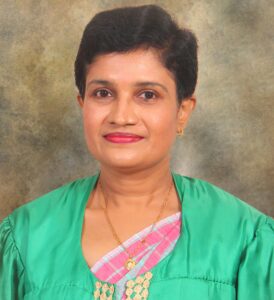 Working together towards a common vision
Dear Sir, Madam, Friends and Members of The Nutrition Society of Sri Lanka,
I am very much privileged to have been elected as the President of the Nutrition Society of Sri Lanka (NSSL), which facilitates networking of academia, scientists, clinicians, nutritionists and other professionals working in nutrition and allied fields fostering better nutrition and wellbeing among Sri Lankans. The greatest strength of the society is the diversity of its membership. It is a great pleasure for me to be in this vibrant energetic council for 2020/2021.
The Nutrition Society of Sri Lanka (NSSL) was established in 1972 and incorporated by the Parliamentary Act No 5 (1985) of the Democratic Socialist Republic of Sri Lanka. The aims of the society are to work towards the common goals of promoting health and nutritional wellbeing of Sri Lankans, to encourage research in nutrition and to provide a platform for education and dissemination of knowledge. More importantly, NSSL plays a significant role in advocacy for health and nutrition policy development. We are a team with the genuine interest on upgrading the science of human nutrition for a healthier Sri Lankan nation. The NSSL marks its fifth year of successful existence in 2022.  Hence, on behalf of the council I invite new members to join hands with us.
Prof. Chandima Madhu Wickramatilake(MBBS, PhD)
President, NSSL
Professor in Biochemistry, Faculty of Medicine
University of Ruhuna